Is the sun actually tilted…or is it just us? DNews dives into this space mystery by taking a closer look at the effects of Planet 9.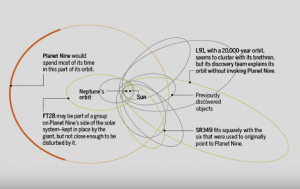 Planet Nine—the undiscovered planet at the edge of the solar system that was predicted by the work of Caltech's Konstantin Batygin and Mike Brown in January 2016—appears to be responsible for the unusual tilt of the sun, according to a new study.
The astronomer says he has good reason to believe there's an undiscovered planet bigger than Earth lurking in the distant reaches of our solar system. Planet Nine may be responsible for tilting the Sun after finding
evidence of a 10 Earth mass planet may be tilting long-orbiting dwarf planets on their sides and shepherding them into clusters far past the orbit of Neptune in highly eccentric orbits.